Interested in a class (one-on-one and/or online)?
A class lasts 1:15 hour….it's so much fun that you won't realize time is over! Each lesson is different: new topics every time, always a combination of speaking/conversation and/or just readings (a specific book/author or copies about culture). Each participant will feel like having a virtual TOUR inside Italy, having a native as a friend and also a private Tutor that fills the gaps, teaches and opens the gates on a vast ancient world. General comments of my students find my lessons as exciting and inspirational and I can't wait to share all my knowledge with everyone interested in my native Country. It will be a great and unique adventure hunting for treasure while having fun.
For Italian classes, please, contact me at: valentina.caprio@gmail.com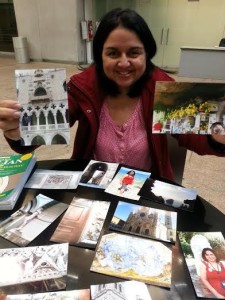 When I created "authentic Italy" in the NYC Meetup I had a challenging but interesting goal:
Talking about Italy in a different way, teaching how to speak properly and in a very short time but being aware of the Culture behind EACH used word. My method goes straight to the tricks of the language so that my students become independent able to create structures on their own, even guessing words and making comparisons with other languages!!
Italy is not just food or a vacation-paradise: everybody knows that it's a lot more, it's a different life style, the ideal quality of life everybody would love to live. My Meetup provides relax and fun while learning, cultural knowledge and inspiration of a better living, besides sharing with others the common interests and finding new friends.
and……
After learning and sharing, I've been planning with my students (or friends and friends of friends) trips inland Italy since 2014. Small groups or couples travelling to not-well-known places as an elite group of experts, touching with hands the real BEL PAESE, experiencing among the locals the genuine daily life, far from the crowded typical touristic places. Authenticity is now luxury!
How did I start tutoring also inland Italy? What is my AUTHENTIC ITALY?
I brought a small student group just once in my hometown, Montecassino, and it was wonderful enough to make me decide this is what I will do for the rest of my life!! CULTURAL and NON-CONVENTIONAL Tourism / Farm Vacations inside THE REAL ITALY
I found the perfect excuse to go back to Italy twice a year acting as a customized cultural travel Planner, then leaving the groups to the private tour guides since they are so eager in knowing every detail of each village.
After studying together at my Meetups, my students or friends have full immersion and direct experience in Italy (max 10 days). So to say, first the theory than the practice 😉 Whereas there'll be more interest, I will plan customized trips for small groups or single individuals. Country holidays, cultural tours, sports and adventure, religion and spirituality, health and wellness etc…Authentic Italy really has it all for all tastes!
Contact me at: authenticitaly1@gmail.com