(Play/drama) Genre: History / My rate: 3 stars ***
Despite the words in rivers and the looooooong speeches of the two characters, I found some parts to be CRAZY fun!!
Despite from the overturning of traditional values ​​and a sort of theatrical anarchy, even for these two characters (Caesar and Cleopatra) that history and legend have presented us in such a solemn, dramatic and imposing way (let's just think of the whole Romantic theater) Shaw dares the paradoxical, almost caricatural way.
I can't tell how much I liked the late nineteenth century English used for the voluntary deformation of their traits: a meek Caesar and almost treated like a toy (but he remains very human), while Cleopatra is at first infantile and frightened, then becomes a woman who will exert a great influence.
Shaw will devote just 5 lines to her in the captions (he will use, instead, big words and pages and pages for Caesar … misogynistic writer rather obvious!) But Cleopatra's evolution will be clear and simple: From stuttering and capricious in the first 2 acts, by the 3rd she began to show queenly attitudes thanks to Caesar who taught her how to govern, he passed onto her the experience; in the 4th act the beginning of the power (with the conversations with Potino) and the 5th sees her majesty and the farewell with Caesar.
Shaw's Cleopatra goes from childish and unconscious cruelty to mature and conscious cruelty through closeness to Caesar and becomes Dictatorship.
So, Shaw who is against myths, war and every form of rhetoric presents us a not-at-all naive Cleopatra. She is set on a caustic and light level. But the superiority of Caesar is unmatched, the attitude and his manners speak for themselves.
There is a controversial part, the constant controversy of Shaw towards the Anglo-Saxon 'world' and its traditions to which it shows harshness, and finally the inevitable anti-theoretical aspect against which it favors that of a saltimbanco, a street acrobat.
It's difficult to make Bernard Shaw be accepted by the public, it's difficult to appreciate it if you do not know his entire work, the stylizations, the boundaries between serious and facetious; maybe that's why he is not among the best-known dramaturge in Italy.
Beyond the caricature and the paradox, Shaw stands out for his great humanity and I recommend it to everyone.
And like any dive made in a brilliant mind, it will never be a simple and straightforward reading, but it will always be worth it, and I want to repeat 'always', the penalty.
"The Greeks had Aristotle, the Italians had Leonardo da Vinci, the English had Shakespeare and Irish has my astonishing self. "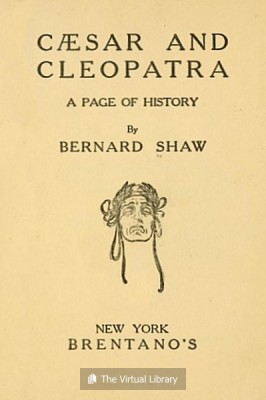 "Caesar and Cleopatra" by George Bernard Shaw – my review